---
---
CONVEYORS
Conveyor belts are critical to transporting bulk materials throughout a process or facility. Good conveyor belt design is important to ensure conveyors are reliable and can be safely maintained and operated. A well designed and properly installed conveyor increases productivity. Ingenium Design can layout your next belt conveyor from the napkin stage through all the minor details. Details that will effect your routine maintenance and the safety of your personnel. Ingenium Design values safety and does not believe in taking shortcuts when it comes to conveyor belts.
Our "War Room" approach to safety allows us to get input from engineers, operators and maintenance personnel. Every facility has their own safety requirements to incorporate into the conveyor belt design. Ingenium Design will provide you years of experience to deliver a system that exceeds your safety requirements. For the reasons mentioned above, every conveyor belt is custom designed and engineered to meet the design requirements. Complete construction of a conveyor belt can be broken down into a few phases and we are happy to help anywhere along the way.
---
CHUTES
Chutework is a critical part of bulk material handling. Chutework connects all of the process and transportation equipment. The geometry can become quite complex and is custom designed for the material being transported and the equipment being served. As one can imagine the different requirements for a sticky material versus a dry material with high flow-ability. Dust generation, abrasion and corrosion are also major considerations when designing chutework. Since Ingenium Design's standard operating procedure is to model and layout a process in 3D, we can ensure we give adequate room for the proper design of chutework. Too many times chutework becomes an afterthought in bulk material handling design. This can lead to problematic chutes that plug because the chute angles end up being more shallow than originally desired. If you have chutework that is beyond it's useful life or is giving you trouble and is covered in sledge hammer dents, let us help you design something that works.
---
HOPPERS & STORAGE BINS
---
DEM
---
LOADING & UNLOADING
---
CRUSHING
---
DRYING
---
SCREENING
---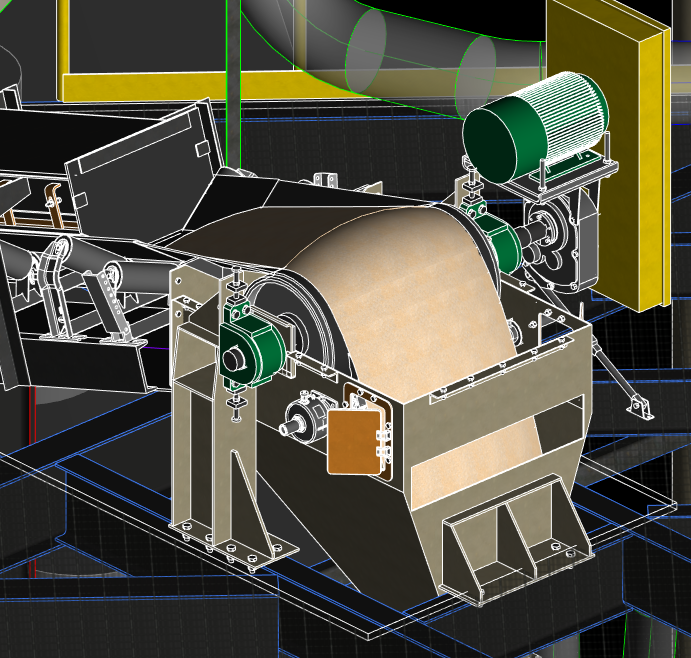 FEEDER BELT DESIGN
---
STOCKPILE FACILITIES
---
TUBE CONVEYORS
---
CONVEYOR BENTS & TRUSSES
---
PNEUMATIC CONVEYING